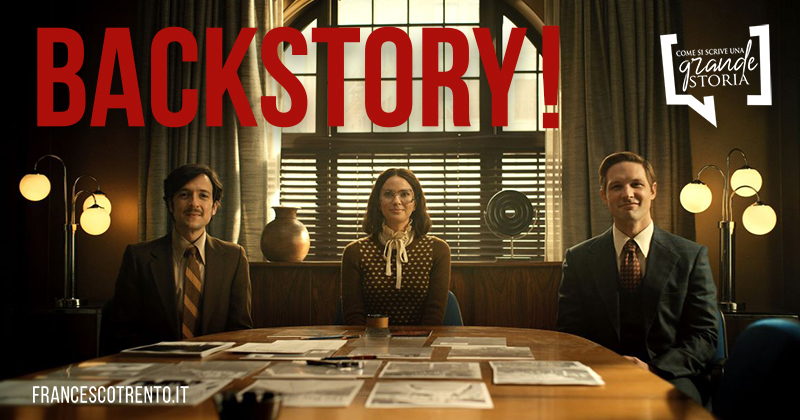 Struttura del corso
Struttura del corso
Conosciamo vita, morte e miracoli dei nostri personaggi, dopo tutto il tempo trascorso a immaginarli. Quando prendono finalmente parola, è sempre forte la tentazione di fornire prove della meticolosità con cui abbiamo scritto le loro biografie. Se vogliamo aggirare il pericolo dell'infodump, però, quel lavoro di ricerca deve rimanere un'intelaiatura invisibile, al servizio della trama.

Attraverso esempi tratti da film, serie TV e libri, in questo seminario di dieci ore esamineremo con Francesco Trento e Adele Augruso le soluzioni migliori per raccontare il vissuto dei personaggi senza interrompere il flusso della narrazione.
Scopriremo in quali modi e a che punto delle storie possiamo svelare le ferite degli eroi (Stranger Things, The way back) e delle eroine (Arrival, La scomparsa di Eleanor Rigby), soffermandoci soprattutto su casi in cui la fretta sarebbe stata una cattiva consigliera: pensate al tempismo perfetto delle rivelazioni sui protagonisti di The Woodsman, In Bruges, La macchia umana, Soffocare, o sulle protagoniste di Ti amerò sempre, Rachel sta per sposarsi, Invisible Monsters, Fleabag.

Vedremo come la giusta temperatura emotiva permetta di ricorrere a una confessione (Better Call Saul, Mai raramente a volte sempre), e infine studieremo l'uso dei flashback nei drama e nelle comedy (Mad Men, Lost, How I Met Your Mother, This Is Us, The Handmaid's Tale), con un focus su episodi ambientati interamente nel passato (Mythic Quest, BoJack Horseman, I May Destroy You).
Course Features
Lectures

2

Quizzes

0

Duration

Accesso illimitato

Skill level

Per tutti

Students

4

Assessments

Yes